2023 Excellence Awards
Friday, March 31, 2023
Time: 11:30 AM – 1 PM
Location: Hitt Library, Room 402
The Excellence Awards provide an opportunity to celebrate exceptional students and faculty mentors who work diligently throughout the year on their research and other endeavors. These awards are acknowledged annually during Student Research Week. Awards honored at this event are listed below. More information on these awards can be found on either the Office of Undergraduate Research or the College of Graduate Studies websites depending on the award.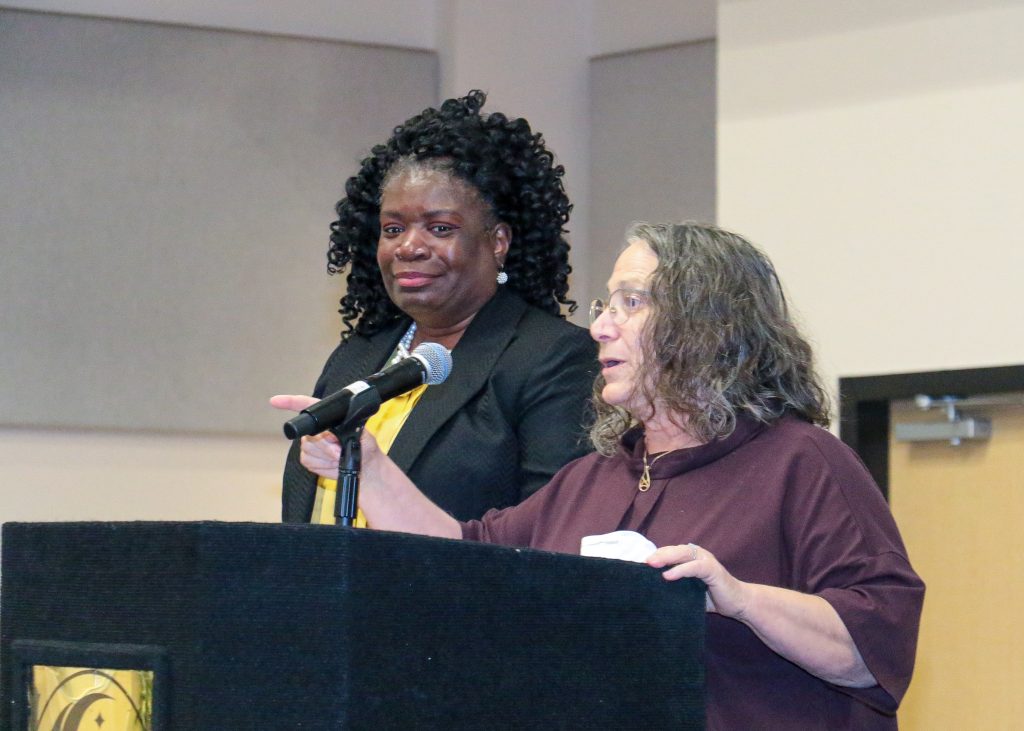 Awards Presented
Graduate
Excellence in Graduate Student Teaching
Excellence by a Graduate Student Researcher
Graduate Teaching Assistant
Undergraduate
Undergraduate Mentor of the Year
Champions of Undergraduate Research
Distinguished Undergraduate Researcher Award
Previous Winners
Excellence in Graduate Student Teaching: Erica Goldstein
She is in the Education PhD, Exercise Physiology Track, College of Health Professions and Sciences. Erica was nominated by Associate Professor Dr. Matthew Stock in the School of Kinesiology and Physical Therapy.
Graduate Teaching Assistant: Davide Dal Pos
He is in the College of Sciences and is earning a doctorate in Biology. Davide was nominated by the following faculty: Dr. Barb Sharanowski; Ms. Michelle Yeargain; and Dr. John Fauth.
Undergraduate Mentor of the Year: Dr. Nicole Lapeyrouse, Lecturer, Department of Chemistry, College of Sciences
This year's Mentor of the Year has had a profound impact on her students' undergraduate careers. One of her mentees writes "what really stood out to me was the incredible encouragement, support, and patience she displayed as my research advisor…I can truly say that she is always pushing her students to success."
Champions of Undergraduate Research
Chrysalis Wright, Department of Psychology, College of Sciences
Jonathan Caranto, Department of Chemistry, College of Sciences
Distinguished Undergraduate Research Awards
2021
May: Riley Shurack, whose mentor is Dr. Jeanette Garcia, Health Sciences
June: Juliet Cahow whose mentor is Dr. Anne Bubriski, Women's and Gender Studies,
July: Geela Margo Ramos who is mentored by Dr. Joon-Hyuk Park, Mechanical and Aerospace Engineering
August: Julia Rifenberg, whose mentor is Dr. Valerie Sims, Psychology
September: Cerena Moreno who is mentored by Dr. Wencai Zhang, Burnett School of Biomedical Sciences
October: Angela Shar who is mentored by Dr. Mehdi Razavi, Burnett School of Biomedical Sciences
November: Christine Sarkis whose mentor is Dr. Anna Forsman, Biology
December: Neda Hamood whose mentor is Dr. Raheleh Ahangari, Burnett School of Biomedical Sciences
2022
January: Ana Garcia whose mentor is Dr. Jeffrey Bedwell, Psychology
February: Marnie Williams who is mentored by Dr. James Hickman, Chemistry
March: Tyler Morrill who's mentored by Dr. Carlos Borges, Mathematics
Forthcoming
Forthcoming